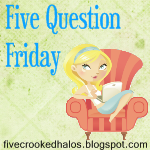 Rules for 5

QF

: Copy and paste the following questions to your blog post, answer them, then watch for the

linky

post to appear Friday morning and LINK UP!
1.
If you were free to just hop in the car and drive, where would you go? Or, if you could hop a plane and go anywhere, where?
If I were to hop in a car and drive my guess would be that we would take a road trip to see the Grand Canyon and explore all it has to offer. If I could hop a plane, I would love to go to Europe. I have never left the US and would love to indulge in the delicacies another country has to offer.
2.
What's your most recently read favorite book?
Funny you ask, currently I as trying so hard to finish Hunger Games before going to watch the movie tomorrow afternoon with the family. I know I can do it even if it means not sleeping tonight! hahahah! I only have 166 pages left.
3.
What's your favorite Spring Break memory?
Favorite Spring Break Memory hmmmm well I remember being about 13 or 14 and my grandfather would take me and my bff to Keansburg, NJ and we would go swimming in the pool for hours all while my wonderful grandfather would wait for us. Then the next day he would take us roller skating that was the big thing to do back in the 80's remember that?
4. W
hat do you put in your child's Easter basket? Or, for those w/o kids, what was put in your childhood basket?
In the Easter baskets for my kids I always put their recent favorite new release DVD and of course some jelly beans, easter hollow chocolate, and frozen PEEPS for me! They hate peeps~ I love Frozen peeps! Anyone ever try that?
5. Do you get a summer haircut?
I was just thinking about this the other day. I have caramel/blonde highlights and I really really have to re do them. Just trying to decide whether or not to do natural (dark brown) or continue my highlights. Its a decision that will have to be thought out. Cut wise NAAAAA I wanna let it grow..
So there you have it my 5QF!
Jessie